Gambling police officer gets 1.5 year prison sentence
08-04-2015
A compulsive gambler stole evidence worth $116,000 from the Royal Canadian Mounted Police (RCMP). April Smith was employed as an exhibits officer at the RCMP office in Mission (British Columbia). The 46-year-old woman now faces
1.5 years in jail
.
Theft due to gambling addiction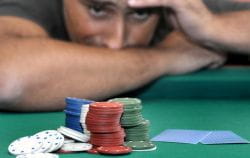 Smith stated in court that she feels enormous remorse over her actions. The gambling addict added that she had let down both her colleagues and family. The embezzlement started in August 2008, when she began her job as an exhibits officer at Mission RCMP headquarters. Smith admitted she was
gripped by the gambling epidemic
, which forced her to find additional funds.
Embezzlement at exhibits unit
The 46-year-old exhibits officer stole cash that had been seized or found. Smith manipulated the registration system, while she also concealed items that could unveil the
gambling-related fraud
. However, the theft came to light after a twelve-month investigation, which showed that Smith had manipulated 89 files. Additionally, the investigation unveiled large sums of untraceable funds.