Gambling losses possible motive for murder
29-11-2012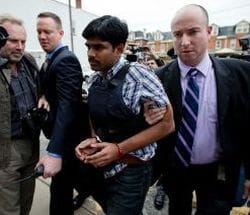 Raghunandan Yandamuri, an Indian software engineer, tried to kidnap a baby and her grandmother after he lost $15,000 to $20,000 at a casino. The 26-year-old man claimed he wasn't planning to kill them, but he
panicked and killed the grandmother
in a fight. But things got even worse.
Baby murder
Yandamuri dropped the 10-month-old girl who started crying. He put a handkerchief in her mouth, wrapped a towel around her head and left her in the fitness center of the apartment tower. A few hours later, Yandamuri wanted to give the baby some milk, but discovered that she was lifeless.
You win some, you lose some
The Indian software engineer decided to kidnap the 61-year-old woman and the baby in order to demand $50,000 from their family. Police detained the 26-year-old man a couple of days after the incident. Yandamuri admitted he had a gambling problem. "A few weeks ago, I cashed $20,000 at a casino, but later I gambled away about $17,500," Yandamuri said. On November1th, BestOnlineCasino.com reported on a
problem gambler from Australia
who killed his spouse.