Gambling dispute results in 1 dead and 7 wounded
20-11-2012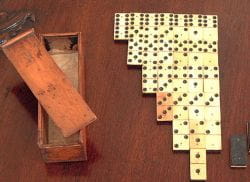 A 35-year-old Indonesian man who reportedly killed one of his gambling co-workers has been arrested. The 5 men were gambling at a house and after 30 minutes four of them accused the 35-year-old man of cheating. Things got out of control and the dispute resulted in one man dead and three others injured.
Deadly dispute
The suspect feared that he would be beaten up by his co-workers and fled to his bedroom. He returned with a knife and stabbed one of them to death. The three others managed to leave the house but they were injured after the stabbing. Police officers rushed to the scene and arrested the suspect who tried to hid inside his house.
Not in critical condition
They also seized the knife, used by the suspect to attack his gambling co-workers. The 35-year-old man also tried to hid the domino set. A police spokesperson revealed that the dead man, Amirudin Raside, was taken to the Hospital Lahad Datu for autopsy. The three injured men were treated at a hospital, but they are not in critical condition. Check our
extensive news section
for more exciting gambling news.