Gambling addicted clerk faces jail term
19-10-2012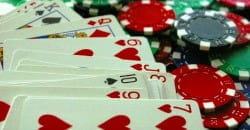 A gambling addict from Picuris Pueblo, New Mexico embezzled about $132,000 belonging to the Indian tribal organization. The 61-year-old woman used the money to feed her gambling habit and pay bills. Norma Mermejo has now been charged with fraud and theft.
Five years in prison
The fraudulent activities took place between February 2008 and April 2010. Mermejo committed the fraud within the organization on 144 occasions. She was sacked after the embezzlement came to light. The gambling addict now faces a maximum penalty of five years in prison and a $250,000 fine. It remains unclear when the judge will pass sentence.
Stealing at work
Many gambling fans are familiar with our exciting news section. BestOnlineCasino.com has brought you several news reports on stealing employees who used the money to gambling. Last month, we reported about a woman who embezzled more than $36,000 at work. She used the money to gamble at a bingo venue. Or how about a
pharmacy clerk who stole lottery tickets
at work.