Gambling addict woman stole cash and silver
28-05-2014
Desperate needs lead to desperate deeds. Sheri Ann O'Reilly can bear witness to that fact as she started stealing in order to finance her gambling addiction. She has been found guilty to theft and could be sentenced to
up to ten years in jail
.
Stealing cleaning lady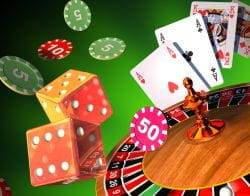 O'Reilly worked as a cleaning lady at a Byron Township-based hair salon, while she also cleaned the owner's home. The 48-year-old
gambling addict
stole cash from the barber. Additionally, O'Reilly took silver from the victim and sold it at a pawnbroker. It goes without saying that she used the money to gamble at casinos.
$20,000 in stolen cash and silver
The thefts with a total value of $20,000 took place between January 2013 and January 2014, according to court documents. At this stage it's unclear if O'Reilly is able to repay the amount she stole. The Otsego woman spent most of the money at the Gun Lake Casino, which boasts more than 1,500
slot machines
and 33 gambling tables.