Gambling addict embezzled more than £200,000 from employer
24-03-2014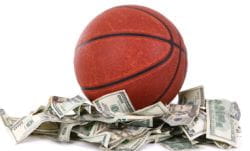 A bank adviser from Preston committed
fraud at work
in order to fund his betting addiction. Marc Burnett stole £226,508 during the period 2008 – 2013 and now faces a 24-month suspended sentence. As a senior adviser for Lloyds Bank he forged 45 transactions to collect money for his gambling problem.
Breach of trust
The bank fraud affected six pensioners, according to local media. Burnett picked out his victims carefully, while he also redirected their bank statements to avoid getting caught. The pensioners thought their live savings were in safe hands, but Burnett
misused his position
.
£4,000 bets
Things got out of control and his gambling debts piled up. Burnett placed football bets up to £4,000. The embezzlement was detected and the gambling addict from Preston has repaid every penny of the stolen funds to the pensioners. Burnett must also undertake
300 hours of unpaid community service.