Gambling addict drug dealer sentenced to prison
09-09-2014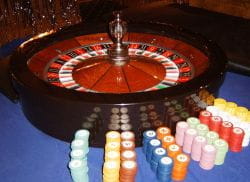 A man from Glasgow has himself to blame for the fact he's facing a prison sentence. Sean Cunningham developed a gambling problem and started dealing drugs. The 25-year-old pathological gambler has been sentenced to a
jail term of four years and nine months
.
Gang member
Cunningham lost huge amounts of money at roulette tables, resulting in massive debts. For that reason, he was forced to take out several loans. The unemployed man became desperate and turned to drug dealing. Court documents showed that the
gambling addict
didn't receive big payouts from his drug trafficking activities.
Indebted gambler
Glasgow Police raided an apartment after information about an alleged supply of heroin. Police officers arrested Cunningham at the apartment where they seized an assortment of drug paraphernalia. Heroine packaging found inside the flat featured his fingerprints. The
heroin delivery involved a whopping £500,000 in cash.