Gambling addict banker sentenced for theft
28-07-2015
A man from Zimbabwe has made a nuisance of himself as he
stole $170,000
from the bank where he worked. Alfred Gusha used the funds to gamble, according to local media. The 30-year-old banker lost all the money in gambling.
Sentence reduction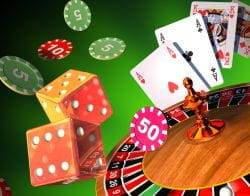 Gusha has to spend 18 months behind bars after he was found
guilty on embezzlement charges
. The Harare resident lost control over his gambling habit, which forced him to steal money from the NMB Bank Ltd. branch where he was employed. Good behavior and paying back all the stolen money can result in reduction of his sentence.
End of clean sheet
The 30-year-old man admitted everything in court. "I never committed any crime prior to the theft at work. My
gambling problem
is the only reason behind the embezzlement", Gusha stated in court. Gusha expressed regret for his actions, which cost him his job at the bank office. It remains unknown if the former banker will undergo treatment for his chronic gambling addiction.