Gambler takes frustration out on slot machines
13-01-2016
Losing money while gambling is obviously frustrating, but that's no excuse to take your frustrations out on a slot machine. A British gambling enthusiast thought otherwise as he
damaged two one-armed bandits
at a Romford-based gambling venue.
$8,600 in damages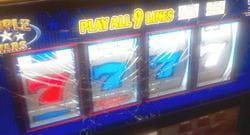 The incident occurred mid-October last year, and local police have now published a
video of the gambler's misbehavior
. After losing an unidentified amount of cash, the suspect uses a chair to damage two slots. The cracked displays of both gambling machines resulted in repair costs of more than $8,600.
Suspect on the run
He left the gambling venue after the incident, according to the police. The
frustrated gambler
is aged 35 – 40, about 5'6" tall, and dressed in blue jeans and a grey jacket with dark-colored elbow patches. Police are appealing to the public to contact them with any information in relation to this case.