Fresno police discover gambling machines in concealed cave
23-02-2015
People seem to do everything to hide their illegal gambling machines. Fresno Police visited a home on Turner Avenue after receiving information about
domestic violence
. Officers discovered several black-market gambling machines at the premises.
Two suspects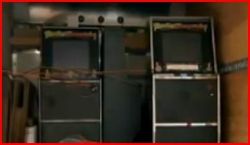 Residents had informed the police about screams coming from the premises. A crying woman opened the door when agents visited the location. She seemed afraid, while two individuals were running through the house. Police thought that
maybe somebody was injured
, and they inspected the home.
Cave hidden under chicken coop
Agents didn't find the two individuals inside the house, after which they started searching the rest of the premises. They discovered an underground cave that was hidden under a hen house. Police officers found the two suspects, who were hiding inside the
hollow place in the ground
.
Gambling machines inside cave
Three individuals were arrested, including Lee Khammany, Daniel Marquez, and Kue Vang, who were taken to the Fresno County jail. The cave featured security cameras, weapons, tools, in addition to
black-market gambling
machines. Agents also seized cannabis plants from the premises.