Fresno internet café hosted illegal gambling
12-12-2013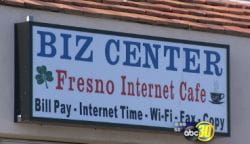 Fresno Police have flushed out an illegal gambling business that was concealed in a local cyber café. The storefront of the establishment in question, 'Biz Center', claimed to offer internet and office services. However, the alleged internet café was actually an
underground gambling parlor
.
Undercover operation
Prior to the raid, undercover agents visited the
internet cafe
and determined that Biz Center didn't offer the advertised services. All customers came to the business to enjoy the video gambling machines, which was confirmed by undercover officers who participated in the gambling activities.
Drug dealing and prostitution
Biz Center offered a range of video gambling machines, including video poker. A police spokesperson confirmed that the cyber café opened its doors earlier this year. After receiving complaints about the internet café, police launched an investigation. After the opening in May, there were incidents involving robberies, drug trade, and women who offered
sex services
.