Forsyth authorities raid two illegal gambling dens
19-11-2013
Local authorities have busted two illegal gambling dens at two homes located in Forsyth, Georgia. Police arrested seven people in connection with illegal liquor sales and underground gambling. Both the Forsyth-Monroe County Drug Task Force and Forsyth Police Department participated in the operation.
Gambling paraphernalia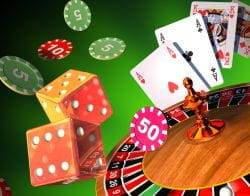 In a news release, authorities confirmed that Thelma Simmons (63) and Thamon Chambliss (59) were arrested for possession of gambling paraphernalia. Additionally, the duo faces charges of
illegal alcohol distribution
.
Drug possession and illegal distilled liquor
Charles Banks (57) was one of the other persons arrested, read a statement from the Forsyth Police Department. Banks is charged with
keeping a disorderly house
, selling alcoholic beverages without a license, and drug possession. William Banks (58) was arrested for drug possession.
Probation violation
Decarlos Knight (24) and Donney Scandrett (19) are facing charges of possession of drug paraphernalia. Additionally, Leon Hart was arrested for
unlawful gambling
and violating conditions of probation.