Fayetteville Police bust home-based gambling den
11-10-2013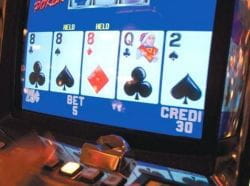 A woman from Fayetteville, Cumberland County, North Carolina has been arrested after police officers burst into her home. The raid was the result of information about illegal gambling activities that allegedly took place inside her home. 54-year-old Soon Ju Lunsford has been accused of running a
clandestine gambling house
.
Three gambling customers
Police officers found five patrons inside Lunsford's home at the time of the operation. A spokesperson noted that three of them were spinning the reels of a
video poker machine
. They were questioned for illicit gambling, after which the trio was released. Lunsford was released on a $16,000 bond.
Crackdown on illegal gambling
Investigators removed eight gambling machines from the Fayetteville-based home, as well as an undisclosed amount of cash for forfeiture. Additionally, detectives confiscated a firearm. The police spokesperson added that more raids are likely as they continue their unprecedented crackdown on
clandestine gambling operations
.