Desperate gambler turns to shoplifting
18-08-2012
Santa Fe Police are struggling to determine the identity of a shoplifter who claims his name is Martinez. He became desperate after he lost a lot of money at the Hard Rock Casino, after which he decided to steal valuable items from two local stores. Police officers weren't able to verify his identity and he had forgotten his age.
Caught shoplifting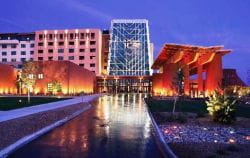 The suspect tried to hide himself by crawling over the floor at one of the stores. When a store clerk approached him, he decided to get up on his feet. Martinez returned three armlets and he fled the store. The shoplifter snatched a bag with a few shirts from another shop. A shop clerk managed to catch the fleeing suspect and handed him over to the police. Police seized jewelry with a total value of $186,900, in addition to the shirts, valued at $766. Martinez was taken to a hospital as he had injured his ankle, while he also complained about his heart.
Desperate gambler
He declared that his spouse had driven him to the Albuquerque-based gambling parlor. He got really drunk and gambled away a huge sum of money. The next day he told his wife about the money he had lost at the Hard Rock Casino. She became furious and ordered him to get out of the car. Martinez confessed that his desperation drove him to shoplifting in order to get the money back.