Debt-laden gambler turned to cannabis cultivation
22-08-2012
Debts make you do crazy things. Robert Buchan is addicted to gambling, which made him accept an offer to grow marijuana in order to finance his gambling debts. The problem gambler has been sentenced to 12 months in jail.
Criminal proposal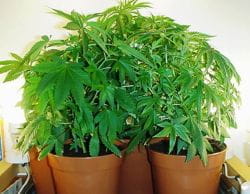 An unknown man asked Buchan if he was interested in making some extra cash. He would earn £2,000 for every produced marijuana plant. Buchan decided to accept the offer and made £14,000 in 12 months. Additionally, the 44-year-old received monthly housing benefits worth £500 and £396 per month in incapacity benefit.
More than 120 cannabis plants
Buchan also tapped into the local electricity grid, stealing £8,316.97 to grow the marijuana plants. Police officers raided Buchan's former apartment in Bristol. One of the rooms featured approximately 60 marijuana crops, in addition to marijuana-growing equipment. There was another room that contained about 63 cannabis plants and growing equipment.
Desperate gamblers
Monday we informed you about
desperate gambling addicts in Vietnam
. Gambling is strictly prohibited in the Asian country and state lotteries are the only form of legal gambling. However, underground gambling is flourishing and has resulted in many desperate gamblers. There are even reports of problem gamblers who commit suicide.