Debt-laden gambler blows himself up at Chinese airport
14-06-2016
Desperate needs lead to desperate deeds, which also applies to indebted gamblers. Zhou Xingbai is the living proof of that notion as he blew himself up at Shanghai's Pudong International Airport. Xingbai even
announced his foolish deed on social media
.
Self-made bomb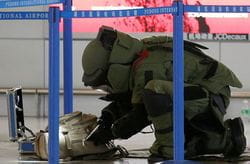 The explosion not only injured the 29-year-old gambler, but also five other victims. Xingbai tried to end his life, but that attempt failed. He filled a beer bottle with explosives to
commit suicide
at the airport terminal, according to Chinese media. Subsequently, the Kunshan resident used the broken glass to cut his neck.
Life savings up in smoke
Xingbai is gripped by the gambling epidemic, and he loves to play at online casinos. However, the 29-year-old ran of money and started borrowing money, which resulted in
massive debts
. Things really spiraled out of control when he gambled away all the money he had in his savings account. It wasn't difficult to acquire explosives due to the many mining operations and firecrackers producers in the 'Land of the Dragon'.