David Gest was addicted to long gambling sessions
14-04-2016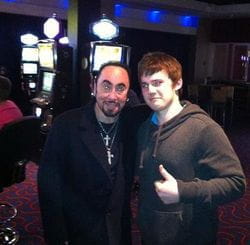 Some gamblers desperately chase a jackpot, which can be a sign of addiction. David Gest was apparently one of those punters as he was
gripped by the gambling epidemic
. The entertainer, producer and television celebrity would spin the reels of two gambling machines at the same time.
Jackpot hunter
Gest frittered away thousands of pounds playing slots in the period prior to his death. Other gamblers claim that the realty TV star enjoyed long gambling sessions. "He could easily spend £10k whilst spinning the reels of his favorite
slot machines
. David was obsessed with winning the jackpot", an unidentified gambling buddy commented.
Gambling stories
However, his
out-of-control gambling habit reportedly resulted in significant debts
. "David was a devoted gambler who loved to visit gambling venues all over the globe. He was also known for his tall tales about his wins at casinos", one of his friends added. Gest had been staying at the
Four Seasons
hotel in London for nearly half a year, where he was found dead.