Danish player wins our roulette ball containing MJ's hair
28-11-2012
The competition to win our one-of-a-kind roulette ball containing Michael Jackson's hair is now officially over! And we'd like to offer our congratulations to JA from Denmark, who won the game with a staggering score of 170,700.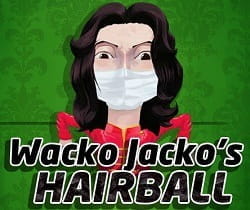 The hair was purchased at auction for $10,871 last December, before being made into a roulette ball earlier this year, a process that was captured in our 'making-of' video.  And to give one lucky gamer the chance to win this truly unique tribute to the King of Pop, we launched our Wacko Jacko's Hairball last month. 
So what does it feel like to win? Here's what JA himself had to say about it when we caught up with him. 
What was your initial reaction when you found out you'd won a roulette ball containing Michael Jackson's actual hair?
It was a relief, because there was some strong competition at the end. Someone else beat my score and I had to do it again. So it was a relief.
So you were happy to win this one-of-a-kind roulette ball in the end?
Maybe not "happy", but it's great to win after a hard fight.
Are you a fan of the King of Pop?
No, I wouldn't say that.
So what was it that drove you enter the competition?
At first, I didn't have a reason. But later on I decided that I'd like to win the ball, and [use it for] something that says more about Michael Jackson than it already does. 
Was Wacko Jacko's Hairball fun to play? Did you find the game challenging?
It's a normal Breakout-style game, so it wasn't really challenging. You had to learn it at first, but there wasn't much to it.
You got the highest score. How much effort did it take to get that score?
Each game I played started to take about an hour. I reached level 20, which is the highest level, and I had to perfect my score at the end. So it did take me a few hours.
Now that you've won, you must be looking forward to receiving your roulette ball…
Yeah, I guess. But I don't know what I'm going to do with it! I'm going to take a picture, that's for sure.
But you don't have any big plans for the roulette ball at this point?
There's a project that I want to help out, so maybe I'll auction it off so I can help those people that way. 
That's a very noble use for the ball. Thank you very much for your time, and once again, congratulations on winning!
We'd also like to thank everyone who entered the competition, and hope that you enjoyed the game even if you didn't win. Indeed, although the competition is now over, We'll be keeping the Wacko Jacko's Hairball flash game online, should you wish to keep on playing for the fun of it.