Coppers accused of stealing gambling money
27-02-2015
Police officers come across huge amounts of cash when raiding illegal gambling dens, which can be tempting. Micah Jessop and Brittan Ashjian allege that ten Fresno police officers couldn't resist the temptation, and that they
stole $100,000 in cash for forfeiture
. The two Fresno business owners have filed a lawsuit against the coppers.
Police detective bribed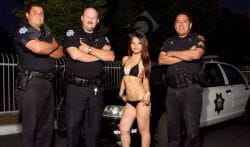 The raid took place in September 2013, and Derik Kumagai is one of the accused police officers. The ex-detective allegedly accepted $20,000 in
slush money from a drug baron
. "The scandalous lack of integrity is shocking", commented Kevin Little, representing the two business owners.
Illegal gambling raid
Agents visited Ashjian and Jessop's residences and their establishment on suspicious of illegal gambling-related activities. The investigation targeted
black-market gambling
machines. The two Fresno business owners allege that police recovered a sum of nearly $131,000 from their cashpoint. Additionally, officers forfeited $20,000 in cash from Jessop's residence.
$100,000 missing
Fresno Police
claim that they only seized $51,000, which prompted Ashjian and Jessop to file a lawsuit in an attempt to recover the missing $100,000. Jessop and Ashjian were not indicted with regard to the gambling probe. The Fresno Police Department was not available for comment.