China web star punished for black-market gambling
11-09-2015
Gambling is illegal in China, something that Guo Meimei should have known. However, the online celebrity
facilitated gambling at Beijing-based flats
. For that reason, Meimei has been sentenced to a five-year jail term and a $7,840 fine. The 24-year-old cooperated with Zhao Xiaolai, who faces two years in prison and a $3,136 fine.
Gambling at private parties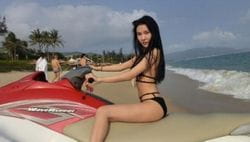 It's an open secret that Meimei likes to gamble. She confessed her involvement in black-market gambling activities, but she denied operating a gambling parlor. Meimei and Xiaolai hosted private parties that featured
illegal games of chance
. The duo invited guests to join the underground gambling action, which has resulted in prison sentences and fines.
Internet celebrity
Meimei became an internet celebrity when she exposed her luxury lifestyle on the internet four years ago. She claimed to own several fancy cars and expensive handbags. The Asian beauty also stated to be chief operating officer of the China Red Cross Commerce Department. It turned out to be a
false claim
as she has never worked for the organization.