Celebrities with a gambling problem: Wayne Rooney
02-08-2014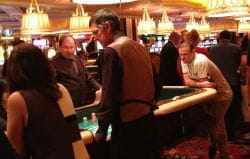 It's always a thin line between a healthy gambling habit and compulsive gambling. Just like many Britons, Wayne Rooney loves to place bets on sporting events. Due to his football talent, the England forward can afford to spend lots of money on betting. However, Rooney doesn't seem to be very successful bettor given his
massive gambling debts
.
Happy casino player
In 2008, the Man United star allegedly blew £65,000 in less than 120 minutes at a Manchester-based gambling parlor. Rooney played high stakes
blackjack
and roulette games at 235 Casino. Just a few hours earlier, he had scored twice for England. "He seemed to be enjoying himself and he kept on smiling. Other casino players congratulated him on the victory in Belarus", according to one of the witnesses.
Popular among football millionaires
235 Casino is a popular gambling venue among
Manchester United
players. In November 2007, several 'red devils' visited the casino to party in honor of Rio Ferdinand's birthday. Two years earlier, British media reported about England internationals involved in a
sports betting
network. The alleged gambling took place in the dressing room, with Rooney as one of the big spenders. The incident not only resulted in massive gambling debts, but also in a rift between Rooney and Michael Owen.