Celebrities with a gambling problem: Tiger Woods
22-02-2014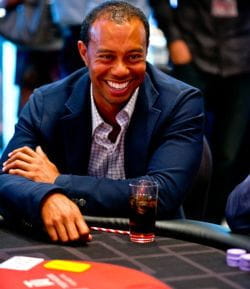 In the world of golf, Tiger Woods is definitely a phenomenon after winning 14 major championships. Besides his passion for golf, Woods also enjoys casino gambling. But maybe a bit too much as he developed a
serious gambling problem
.
Perfect place for his two addictions
It is rumored that the golf legend is a high roller who loves to play
blackjack
. During his many stays at casino resorts in Las Vegas, he would benefit from both the hotel and gambling facilities. Tiger allegedly used his hotel room for his
sexual affairs
, while the casino downstairs was the perfect setting for his gambling addiction.
$25,000 per hand
Jamie Jungers, one of his mistresses, confirmed that Woods was a big spender at gambling tables. Jungers allegedly had a sexual relationship with Woods for one and a half years. "On one occasion, I joined him at a gambling table for a high-stake blackjack session. Tiger put down $25,000 a hand. On that same night,
Charles Barkley
was enjoying a game of roulette at another table near ours.