Celebrities with a gambling problem: Red Forman
11-10-2014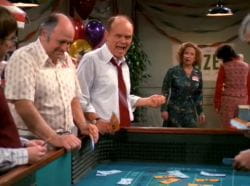 Kurtwood Smith is best known for his role as Red Forman in the popular sitcom 'That '70s Show'. In the episode 'Holy Craps!' he
loses his head while playing craps
. At the same time, Kelso and Kyde team up in order to win all the prizes available at bingo.
Hooked on craps
It all starts when Kitty Forman is tired of her daily routine. For that reason, she decides to participate in a fund raising event. Red, Eric, Kelso and Hyde are forced to contribute, which obviously leads to some
hilarious scenes
. Red is supposed to sell tickets for a lottery, but he spends almost every minute on throwing dice at the craps table.
Major disappointment
Kitty becomes angry after Red cancelled the raffle, while he is on a winning streak at the
craps
table. In the meanwhile, Kelso continues to win at
bingo
thanks to Hyde's cheating scheme. Kitty is tremendously disappointed and sends Red, Eric, Kelso and Hyde away. The episode doesn't unveil if Red actually has a gambling problem.