Celebrities with a gambling problem: Michael Jordan
24-05-2014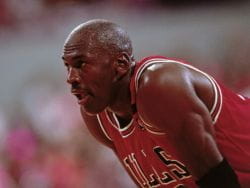 It's no secret that Michael Jordan loves to visit casinos. Besides casino gambling, the basketball legend also has a proclivity for sports betting. In 1993, MJ decided to hang up his Nikes, which sparked rumors about a possible suspension as a result of
illicit gambling
. Those rumors have never been confirmed.
Severe gambling losses
Also in 1993, Jordan reportedly enjoyed a gambling session in Atlantic City while he played the New York Knicks the next day. The
former basketball star
admitted he had lost nearly $57,000 in gambling that year. Additionally, San Diego businessman Richard Esquinas claimed Jordan had lost a whopping $1.25 million in golf bets.
Gambling problem definition
Jordan talked about his gambling habit in an interview on CBS. "On several occasions, I bet too much, which can be described as 'uncontrolled'. I'm not sure if that's the definition of a
gambling addiction
. In my opinion you have a gambling problem if it dominates your life. In my case it doesn't", Jordan stated.