Celebrities with a gambling problem: John McCain
01-02-2014
Craps is a popular game at casinos across North America, and John McCain is definitely a big fan of the dice game. There are even people who claim that the US senator for Arizona can easily gamble away
thousands of dollars during a single craps session
.
High stakes craps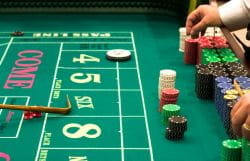 McCain can be described as a high-roller who enjoys a game of craps on a regular basis. The Harrah's New Orleans Hotel and Casino appears to be one of his favorite venues. A close friend revealed that McCain isn't lacking any risk appetite as he likes to gamble for
high stakes
. Additionally, the former presidential candidate used to enjoy gambling sessions of more than ten hours straight.
Simple but addictive
Another source unveiled that McCain used to spend many hours at Las Vegas-based casinos. McCain confirmed that the popular dice game is a rather dangerous temptation. The Arizona senator likes to apply a gambling formula that adds a complex twist to
craps
, which is a rather simple game. "It's not only an addictive game, but also extremely superstitious," McCain once said.