Celebrities with a gambling problem: Joe Francis
23-08-2014
Most people are familiar with the 'girls gone wild' videos, which became an extremely rewarding brand. Joe Francis, the man behind the successful tapes, is a high roller with a gambling problem. The film producer was engaged in a legal fight over a
$2 million gambling debt
.
Debt discount
Francis refused to pay the debt due to an alleged settlement offer. The Wynn Las Vegas resort confirmed the discount, but claimed that the porn producer had failed to pay on time. Insiders revealed that the discount was about
10% to 30% for his losses
.
Buried in desert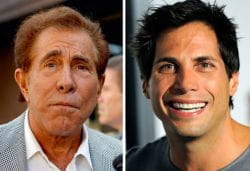 Additionally, Francis claimed Steve Wynn had
threatened to kill him
. The casino mogul reportedly unveiled his plans in an email, in which he stated: "I will use a spade to take him down, after which I will bury him somewhere in the desert."
Experienced court visitor
The Girls Gone Wild founder has been engaged in multiple legal issues, including civil, state and federal cases. In February 2013, his company declared bankruptcy. Steve Wynn was awarded $20 million in 2011, which was increased with another $20 million in punitive damages.
Out of luck
Francis was convinced he would gain victory in court, but
lady luck
was not on his side. The girls gone wild creator condemned Wynn's political power in Nevada. "I would like to urge all gamblers to avoid Wynn casinos as they can get into the same troubles", the king of soft porn noted.