Celebrities with a gambling problem: Chris Tucker
05-04-2014
It isn't always easy being rich, as there are so many temptations. Chris Tucker is one of those wealthy people who couldn't handle his cash. His acting career exploded thanks to the popular Rush Hour movies. However, things got out of control as Tucker started doing drugs, in addition to
excessive gambling sessions
.
Blackjack or poker table?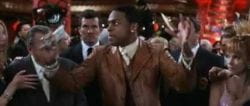 It's is rumored that Tucker, who also gained fame in the 'Friday' movies, likes to spend many hours gambling. Apparently, the actor/ comedian especially loves to play blackjack. On one occasion, Tucker assumed he was playing a game of high-stakes
blackjack
, while actually he had joined a poker table. He lost big time due to the confusion.
Financial problems
Besides struggling with drugs and a chronic
gambling addiction
, the Florida resident also faced a $12 million tax debt. The IRS claimed that Tucker had failed to pay taxes on the fortune he generated with the Rush Hour trilogy. Tucker was forced to sell his two properties in Florida as he faced foreclosure on his stunning mansions. It remains a mystery how he can afford high-stakes blackjack despite his financial problems.