Celebrities with a gambling problem: Ben Affleck's awkward incident
17-05-2014
Ben Affleck's gambling problem seems to spiral out of control. Last week, Hard Rock Hotel & Casino officials caught him card counting, after which he was asked to leave the establishment.  His spouse Jennifer Garner witnessed the
embarrassing scene
, which was followed by a big fight.
Marriage problems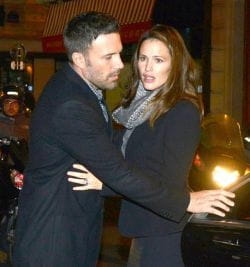 Insiders claim that Jennifer insisted on joining Ben on his trip to Sin City, which he accepted with loathing. They went to dinner every evening, after which she returned to their room, while he would hit the gambling tables. It is rumored that Jennifer got upset as Ben wagered large sums of money and he
couldn't stop playing
.
Humiliating incident
"It was crystal clear that she didn't appreciate
Ben's gambling
, and she seemed angry. One of the supervisors spotted Ben counting cards, after which he was asked to leave the casino. Ben took a huge number of casino fiches before leaving the gambling table. Jennifer was clearly humiliated and annoyed due to the incident", a source revealed.
Bitter fight
Ben and Jennifer returned to their hotel suite, and started fighting furiously. Insiders claim they heard her yelling, demanding him to put an end to his gambling habit. Ben answered that nobody could tell him what to do and that
gambling is part of his life
, according to the source.