Celebrities with a gambling problem: Allen Iverson
07-06-2014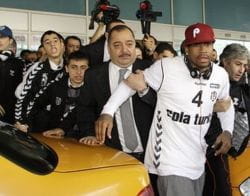 Allen Iverson spent most of his career with the Philadelphia 76ers, and retired four years ago. The ex-basketball player loves to gamble at casinos, but his gambling habit spiraled out of control. Iverson has become addicted to gambling, which has resulted in
various casino bans
.
Casino fight
Besides gambling, Iverson is also addicted to alcohol. It is rumored that both addictions had a negative impact on his basketball career. In late 2005, Iverson got involved in a fight at an
Atlantic City
-based gambling venue. It all started when Iverson refused to give back the chips he had received illegitimately.
Alcoholism, divorce and gambling
During his basketball career, Gary Moore served as his personal manager. In an interview, Moore confirmed that Iverson didn't want to recognize his
gambling problem
. He also faced a divorce, and in combination with an alcohol addiction his life derailed more and more.