Celebrities with a gambling problem: Alan Harper
18-10-2014
The Two and a Half Men episode 'Working for Caligula' features both a gambling and betting element. In Las Vegas, Alan loses his head and ties the knot with Kandi. Things get even better as the newlyweds
scoop a staggering jackpot
while spinning the reels of a huge slot machine.
Three rewarding sevens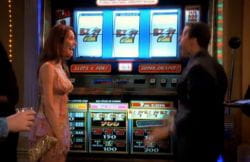 Before playing the Slots of Fun machine, Kandi proposes to enjoy a game of
American roulette
. Alan believes that the odds are totally staked against players, and he gets excited when he discovers a Slots of Fun machine. On the first spin, Kandi and Alan hit a $500,000 jackpot thanks to three sevens on the reels.
Everything gone
After four months however, Alan's marriage ends rather painful. Kandi kicks him out, and he has no other place to go than Charlie's beach house. Latter is enjoying his bachelor life again, which means lots of girls, parties, and liquor. Alan blew all the jackpot cash on Kandi's wealthy lifestyle, leaving him with
only $11 in his pockets
.
Betting pool
The episode also features a bit of betting as Berta, Judith, Charlie, Evelyn Harper, and some neighbors bet on when Alan's marriage will fail. Berta was close to winning the top prize, but Judith becomes the winner of the betting pool. Alan doesn't seem to be a regular gambler, while Charlie obviously loves to bet. In fact, in real life
Charlie Sheen has a gambling problem
.