British expats arrested for playing bingo in Portugal
25-06-2013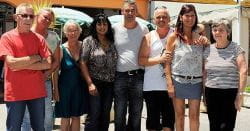 Portuguese officials have ordered several British expats to pay £255 per person for enjoying a bingo session. They faced severe prison sentences and large fines after they were booked. The illegal bingo activities took place at a British pub in the city of Albufeira.
Bar owners fined £1,200
British media report that three people were detained for attending the
bingo
session at the pub. The trio was forced to pay £127 per person, while the operators of the bar were ordered to
pay £1,200
. The group included British expats and tourists between the ages of 23 and 76.
Biscuits prizes
Portuguese police arrested the suspects for illegal gambling, despite the fact that triumphing bingo players could only
win biscuits
. One of the arrested tourists told: "We were arrested and forced to donate £255 to a Portuguese disability charity. We would face jail terms if we had refused to pay the ransom." Portuguese police revealed that they would continue to crack down on
illegal gambling
.