Brave gambler chases armed robber away
10-08-2015
Players who win money should always keep an eye open as envious people may be lying in wait. Ask Kenny Childers, who has experienced the danger of envy. The Oklahoma City resident was robbed at home after he had
won some cash at a local gambling parlor
.
Rude awakening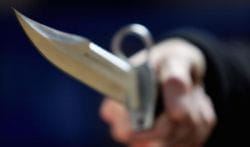 Childers was sleeping when he and his spouse were attacked. An armed man entered their dormitory and
threatened the couple with a knife
. The robber had followed them home as he had noted their gambling winnings. In addition to the money won at the casino, Childers was also forced to hand over the keys to his partner's car.
Counter-attack
However, before the robber was able to leave the house, Childers had grabbed his gun. He threatened to pull the trigger, but the firearm wasn't loaded. Childers promised the attacker to let him go if he would be able to leave the premises before the police arrived. That gave him time to load his firearm, allowing Childers to
shoot the robber
.
One caught, one on the loose
He also fired some shots at the suspect's partner in crime, who was waiting in a vehicle. They tried to escape, but cops arrested the robber. However, his accomplice managed to get away and
police are still looking for him
. Childers noted that he would make sure that his firearm was loaded in case of futher attacks.