Bosnian bank employer stole money to gamble
11-12-2014
You would expect top security at a financial institution, but that doesn't seem to be the case at Bosnia's central bank. An administrative officer managed to ste
al €300,000 to support a gambling problem
. The fraud took place between 2012 and 2014, read a statement from the central bank.
Security questions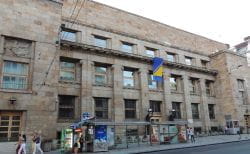 The revelation has sparked rumors about the central bank's failing security. How on earth could Bajraktarevic steal such an amount from the vaults without getting caught? The administrative officer came clean after the embezzled had come to light. Additionally, the Bosnian bank decided to suspend nine other clerks in connection with the
embezzlement
.
Additional arrests
Authorities interrogated fourteen suspects and searched three properties for evidence. A spokesperson for the police noted that more arrests could be forthcoming in the embezzlement at the Bosnian central bank. It remains unclear if Bajraktarevic used the money to gamble at brick and mortar casinos or at
online gambling sites
.