Baby-sitter embezzled money to fund casino trips
12-08-2014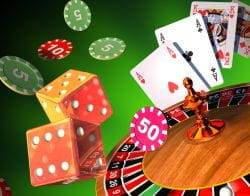 A woman from Gaithersburg, Maryland worked as a baby-sitter and misused her position to steal money. Kadiatu Sahid Kamara used the money to finance gambling trips, while she also bought a house in Africa. The 50-year-old nanny now faces a
jail term of up to 20 years
.
$430,000 in stolen money
Kamara transferred funds into her private account and
falsified signatures
between May 2011 and May 2013. The 50-year-old baby-sitter has been found guilty to several counts of fraud. Kamara confessed she created about 120 checks over a 24-month period, resulting in nearly $430,000 in cash.
Extensive gambling repertoire
The Gaithersburg resident mainly used the money to gamble at casinos in Charles Town, West Virginia. She possible visited the Hollywood Casino, which offers an exciting gambling repertoire. Gamblers can enjoy popular table games, including
blackjack
,
craps
and roulette. Additionally, the Hollywood Casino features nearly 2,700
slot machines
.