Axe-wielding criminals rob betting shop
30-06-2013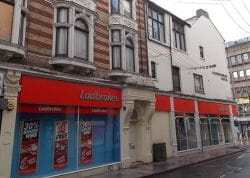 Two armed men robbed a betting store based in Cardiff, and police are appealing to the public for information about the aggravated robbery. The incident took place at approximately 9:30 in the evening. One of the criminals threatened one of the employees with an axe.
Shocked after robbery
The Ladbrokes betting shop is located on Whitchurch Road in the Cathays district of Cardiff. Police believe that the suspects fled in the direction of Whitchurch Road, after which they turned into Newfoundland Street. The member of staff was unharmed in the robbery, but he is still
very shocked
by the violent incident.
Two key witnesses
Detectives are viewing footage from security cameras in and around the betting office. They hope that two key witnesses will come forward to provide information about the incident. One of them is a taxi driver, while the other key witness is a blonde woman who may have seen the two
robbers
. The woman is believed to be aged between 25 – 30, and about 5'8" tall.