Australian punters squander $24.1 billion on gambling
07-12-2015
Australians definitely like to gamble, but they lose quite some money on their favorite pastime. During the period September 2014 – September 2015, the laidback residents
squandered a whopping $24.1 billion on gambling
. That represents an amount of $1,000 per capita.
Gambling increase exceeds GDP growth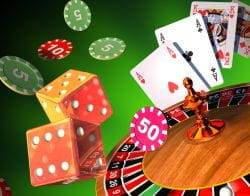 The $24.1 billion in gambling losses equals a 6 per cent jump on a yearly basis. By way of comparison, the Australian economy expanded by 2.5 per cent in the same period. Gambling is part of Australian culture, but the latest increase has caused some commotion. An increasing number of Australians play on offshore
online casinos
, while the overwhelming presence of gambling machines is another concern.
Alarming situation
Market watchers believe that nearly 400,000 Aussies can be defined as
'pathological gamblers'
, which represents approximately 1.7 per cent of the population. The government has launched an investigation into the popularity of online casinos based outside Australia. Barry O'Farrell, former New South Wales premier, has been assigned to lead the research. Of all developed nations on the globe, only Italy has more
slot machines
per capita.