Asian monks involved in gambling scandal
10-08-2012
The Seoul Central District Court has ordered two members of the Jogye Order to pay a fine of $1,775 each. Both monks were caught on video playing poker games involving multi-million won wagers. The incident provoked a real scandal in the Jogye Order community. "They repented their sins and for that reason they only have to pay fines," read a statement from the Seoul Central District Court.
Suspended jail terms
Another member of the Jogye Order videotaped the whole incident, after another individual installed a hidden surveillance camera in the hotel room. The court has sentenced both members to suspended jail terms. A group of eight monks were playing poker and drinking at a Jangseong-based hotel.
Smoking, gambling and drinking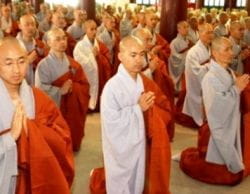 The Jogye Order investigated the case as gambling is strictly prohibited for South Koreans. However, there are a few business that offer legal gambling. Additionally, the members of the Jogye Order were smoking and drinking alcoholic beverages. Government statistics reveal that there are approximately 12 million Buddhists in South Korea.
Poker rules
There are many poker variants, divided into three main groups:
Draw poker
Stud poker
Community card poker
BestOnlineCasino.com
offers you the rules of these poker games:
Caribbean Stud Poker
Pai Gow Poker
Red Dog Poker
Tequila Poker
Texas Hold 'em Poker
Three Card Poker