Airplane casino: dream or reality?
18-01-2013
The Casino Jet Lounge may become the new trend in the airline industry. Jean-Pierre Alfano and Frédérique Houssard are two French aviation designers who have created the gambling lounge for airplanes. The Casino Jet Lounge treats travelers to stylish seating, a bar, and of course a gambling table. "We seek to add some 007-class to airplanes, bringing back memories of the fifties and sixties," Houssard noted. Alfano and Houssard are discussing the onboard gambling concept with several airlines.
Crash due to in-flight gambling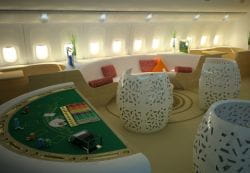 Singapore Airlines introduced in-flight gambling back in 1981. Passengers were able to spin the reels of several one-armed bandits that were installed in the aisles. Singapore Airlines decided to end the experiment after 8 weeks. Then there was Swissair that offered travelers an entertainment system packed with
casino games
. It seemed a successful experiment, but after a Swissair plane with in-flight gambling crashed due to the entertainment system, the in-flight gambling concept fell into oblivion.
Gambling on Virgin Atlantic flights
Virgin Atlantic Airways, founded by Sir Richard Branson in 1984, revealed his plans for in-flight gambling in 2005. Several A380 planes would offer passengers onboard casino gambling. However, his ideas never got implemented. A Virgin official stated that in-flight gambling was one of many ideas they discussed at that time, but they never gave tangible shape to the concept.