28 gambling machines seized from Brownsville establishment
19-07-2013
Twenty-eight gaming machines have been found at a hotel based in Brownsville, Texas. Local police took 17 suspects in custody, who all face charges related to illegal gambling. The gaming machines were found in a hidden room inside a Brownsville-based hotel. The gambling bust was the result of an one-and-a-half year long probe into illegal gambling.
Cash and illegal gaming machines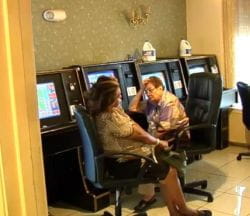 "We have confiscated 28
gambling machines
, in addition to cash. Additionally, we will seize the building," a police spokesperson said.
Hidden gambling room
"Maybe some gamblers assume that it is legal to play gambling machines that are located at public places. However, these gaming machines were found inside a hidden room, which clearly indicates that they were clandestine," read a statement from the Brownsville Police Department.
Five illegal casinos
Two months ago, Cameron County authorities started a major crackdown on illegal gambling. Police officers raided five businesses, including:
Pink Suite
Lucky Place Arcade
Golden Arcade
M77 Game Room
Sahara Inn
Eight suspects were arrested during the raids, and
456 gaming machines
were seized.