26 illegal gambling machines seized from Athens premises
24-07-2013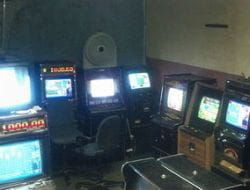 Athens Police officers have arrested Archie Gilbert in connection to clandestine gambling. Agents seized 26 underground gaming devices from his home. Neighbors had complained about the illegal gambling activities that took place at Gilbert's premises.
Facilitating illicit gambling
A police spokesperson revealed that the illegal gambling machines were found inside a storage room. Agents also recovered a sum of $2,100. "The owner of the premises facilitated illegal gambling as people could play
illicit gaming machines
at his home," the police spokesperson added.
Hidden gambling room
There are many reports about illegal gambling raids across the US. Last week, Cameron County authorities found 28 gambling machines at a local hotel. At the time of the raid, fourteen gamblers were playing the gaming machines. They were arrested in connection to illegal gambling. The hotel offered gamblers a
secret room
packed with clandestine gaming devices.