23-year-old gambler cheated his bosses out of £26,000
26-03-2015
An English gambling addict has made a nuisance of himself after
stealing more than £26,000
from his employer. Matthew Farnell used the money to feed his chronic gambling addiction. The Darton resident has attended the first hearing at the Leeds Crown Court. Farnell embezzled the money during the last two months of 2014.
Easy to detect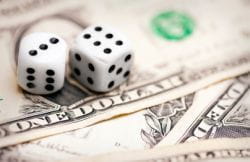 James Gelsthorpe, defending the 23-year-old man, stated Farnell created
24 fake refunds
to collect the cash. The Darton resident used his personal bank card whilst making the false refunds, according to court records. Farnell inserted his card into the store's magnetic stripe card reader to commit the fraud.
Gambled everything away
The embezzlement soon came to light as the defrauded funds were processed into Farnell's bank salary account. The defendant confessed everything when detectives interrogated him in late January. Farnell noted he had
blew all the money gambling
.
Probation plus community service
In the meantime, Farnell has settled his
gambling debts
, while he intends to pay back the stolen funds. The 23-year-old gambling addict pleaded guilty to theft, which led to a 16-month prison term, suspended for 12 months. Additionally, he was ordered to complete 150 hours of community service.