Underground gambling den found in Thai jewelry store
31-01-2014
Pattaya police have flushed out a black-market casino with the arrest of 26 people. Storefronts advertised themselves as a jewelry store, but police say they were actually fronts for a
clandestine gambling den
. 52-year-old Chaiya Saeliew operated the illegal casino, while the other 25 suspects worked as croupiers and game runners.
Not yet open for business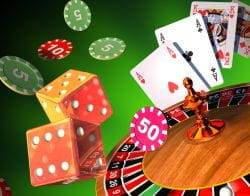 Police officers recovered several gambling-related items, including casino tokens, cards, gambling tables and computers, from the underground betting parlor. Saeliew confirmed he operated the gambling den, which had not opened its doors to the public. The 52-year-old owner noted that the
employees were still in training
, while some devices were still missing.
Legal and illegal gambling options
Thai people have an inborn fascination with gambling and betting, which is however banned. Nevertheless, there are two legal options. The first one is a state lottery, while the other one is betting on domestic horse racing. There are many illegal gambling options, including lotteries and
sports betting
.