Underground casino raided at Laurel County-based building
06-06-2012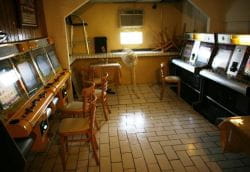 Four people have been detained after Laurel County police raided a building near the city of London. Neighbors had informed the police about the illegal gambling activities in the premises. Sheriff's detectives seized almost $10,000 in cash, drugs and illegal gambling machines. The underground
casino
featured a CCTV system, while it remains unclear who was in charge of the gambling activities.
Aggressive behavior
Raymond C. Wright (45) from Williamsburg and 32-year-old Shannon R. Jones from Rockholds were among the arrested people. Jones is also charged with drug possession. Additionally, two men from East Bernstadt arrived at the location when Sheriff's detectives were raiding the building. They were also arrested. Two suspects were behaving aggressively, according to the police report. The four suspects were brought to the Laurel County Detention Center.
Emptying the ocean with a thimble
Gambling has been around since ancient times. To many people, gambling is a form of entertainment and as long as there are humans there will be
gambling
. For that reason, banning gambling is like emptying the ocean with a thimble. People will always find ways to enjoy their favorite pastime.