Unarmed man robs Valley Square Casino
19-10-2013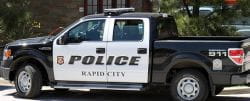 A robber has paid a visit to a casino located in Rapid City, South Dakota. According to an official with the Rapid City Police Department, the unarmed criminal took an
unknown amount of money
from the Valley Square Casino. Detectives are investigating the casino robbery that took place at around 10:10 am.
Shocked but not injured
No one was injured in the robbery at the Rapid City-based gambling venue. The cashier received a terrifying shock but was not injured. After stealing the cash, the unarmed robber
fled the scene on foot
. The suspect was last seen wearing a gray sweatshirt and tracksuit bottoms, while he used a kerchief to hide his face. Rapid City Police are appealing for the public's help to trace the suspect.
Armed casino robbers
In July this year, police officers arrested two suspects in connection with another
casino robbery
in Rapid City. The armed duo included 30-year-old Rudolph Gabe and 23-year-old Bradley Lightfoot who robbed a gambling parlor. One of them used a firearm to threaten a casino cashier to reinforce his demand for money. The duo left the gambling venue with an unknown amount of money.