Two Arcadia casino patrons robbed at home
15-10-2013
There's nothing like a good night's sleep after an exciting gambling session at a casino. Two women from Arcadia, California were having the same thoughts, but two criminals put a
spanner in the works
. The armed duo robbed the two women at their home located in the 200 block of El Dorado Street.
Knife-wielding robbers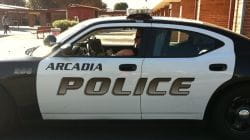 An official with the Arcadia Police Department unveiled that the two knife-wielding robbers seized their chance at approximately 3 AM. One criminal
used a knife
to menace one of the victims, while the other suspect stole a wallet and money from inside their vehicle. Both criminals fled the scene in an unknown direction.
Criminal duo
The Arcadia Police Department has provided a
suspect description
, showing that the first robber is a black man, aged 25 – 35. His weight is approximately 180 pounds and he is about 5'7" tall. The second suspect is a Latino male, who is 6'0" tall and weighs about 200 pounds. Arcadia Police are appealing to the public for help in tracing the two robbers.