The world's most famous casinos: Casino Lisboa
28-02-2015
Casino Lisboa is not only one of Lisbon's leading hot spots, it's also the largest casino in Europe. This impressive gambling venue offers visitors lots to choose from. There are about 1,000 slot machines, and more than 25 gambling tables. The
€108.9 million casino
features a hotel, several restaurants and many bars.
Something to suit everyone's taste or budget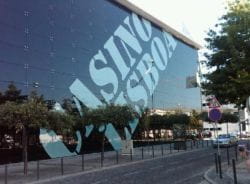 Let's kick off with the extensive gambling repertoire. The ultra-modern
slot machines
are located on two different floors, both packed with a unique and vibrant environment. There's something for everyone's budget, as the betting ranges are almost endless.
Banca Francesa
If you prefer table games you can choose from:
You can also enjoy a game of 'Banca Francesa'. This three-dice game adds an entertaining twist to craps.
Spectacular terrace
The Arena Lounge, located in the center of the casino, is a terrace that offers a stunning view of the surrounding areas. Players can enjoy beverages and food in a laidback ambience. The Arena Lounge features a
200 m2 screen
. Almost needless to say that several gambling areas feature bars that offer both drinks and snacks.