Thai policemen transferred after gambling bust
25-03-2013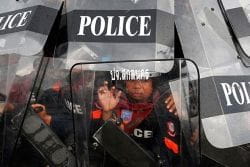 Gambling fans based in the Phra Khanong and Wattana districts in Bangkok have less gambling dens to choose from. Bangkok Police have smashed three illegal casinos that operated in both districts. Those raids have affected the position of four senior police officers, according to local media.
Failed to take action
National Police chief general Adul Sangsingkaew claims that the four senior police officers failed to bust the illegal casinos. The police headquarters had informed them about the
illegal gambling activities
, but they didn't take any action. For that reason, they will now participate in a 30-day probe that will take place at the police headquarters.
Police chiefs transferred
The four police officials feature the chief of the Metropolitan Police Division 5, the chief of the Khlong Tan police department, the chief of the Bang Na police division, and the chief of the Pho Kaew police department. The illegal gambling dens raided featured the so-called 'Mae Ho' casino, located in Sukhumvit 71, and the 'Uan' casino in Bang Na. Police also busted an unknown gambling parlor that was based in Soi Pho Kaew.