Sydney Star Casino robbers arrested
11-10-2012
Two suspects have been accused of robbing three casino patrons last weekend. Sydney Police arrested the duo, both 22, at Sydney's Star casino. They used a firearm to threaten three casino gamblers and to demand cash.
3 casino patrons robbed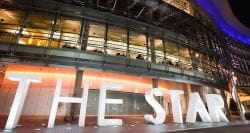 The robbers targeted three casino patrons who were on their way to their cars, according to a police report. They allegedly ordered the punters to get in a vehicle where they were forced to hand over their money and cell phones.
Bail refused
Yesterday they were charged with robbing three casino visitors while using a gun. One of the alleged robbers returns to court today, after the application for bail was declined Wednesday. The other suspect will return to court on December 13 and his application for bail was also declined.
Casino robberies
This case reminds us of a
robbery at a Melbourne-based casino
in August. Three men robbed the gambling venue and one of them was shot by a security official. It remains unclear if authorities have managed to arrest the other two casino robbers. In August, we also reported about two casino robberies in the US.