Swiss Casinos Zurich set to open on November 1
14-10-2012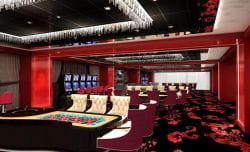 Gambling fans in Zurich will soon be able to visit a casino in the centre of their city. Swiss Casinos Zurich will welcome the first visitors on November 1. The new gambling venue is located in the Haus Ober building, which has been redesigned by the American architect Steelman Partners. The casino definitely targets the upper-class gambling and business markets.
More than 400 slot machines
Swiss Casinos Zurich can be described as a smooth and modern gambling establishment. Inside the casino, gamblers will enjoy mellow and comforting colors, which results in an inviting gaming ambiance. The new casino offers several bars and a restaurant, in addition to over 26 gambling tables and 400 slot machines.
20 casinos
The 4,000-square-meter casino is another example of Zurich's continuing city development. Swiss Casinos Zurich will be the 20th gambling establishment in Switzerland. The new casino will become another hotspot for the Swiss city that attracts over 4.5 million tourists every year. Check our
famous casinos section
for exciting information on the world's most famous casinos.