Suspects found guilty of murder outside River Cree Casino
26-12-2010
A fight between two groups of friends outside the River Cree Casino in Edmonton,
Canada
, ended in a shooting last August. The confrontation resulted in one man's death and one person injured. Both suspects have been found guilty of murdering and assaulting with a firearm.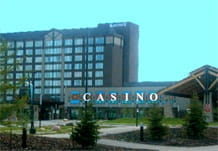 Sentence
The Superior Trial Court of Alberta announced the verdict last Friday. One of the victims was a member of the Somali-Canadian society. For that reason, representatives of the Somali-Canadian community attended Court of Queen's Bench. Both suspects, Adam Michael Brown and Alexander Edward Colin Reid, were emotionless when Justice Paul Belzil pronounced the
sentence
.
River Cree Casino
The confrontation started with a fight inside the River Cree Casino. Ibrahim and his friends got in a fight with Brown and his friends last August. Reid and Brown decided to use their guns after they suffered multiple punches and kicks. This counterattack left one person dead and another injured. The gunfight took place outside River Cree Casino in the presence of many spectators. Forensic evidence showed that Ibrahim had been shot by two weapons.